Spell Research Table
From Ars Magica
Spell Research Table
First Appear
Version 1
Type of Block
Interactive
Stackable?
Yes
Tool Used to Break
Axe
Data Values
Hex: *Need Info*
Dec: *Need Info*
Obeys Law of Physics?
No
Luminosity
No
Transparency
No
Description
[
edit
]
This block is used to research spell recipes as an alternative to finding them in ruins.
Crafting Recipe
[
edit
]
Crafting a spell research table requires the following
1 x Glass Pane
2 x Gold Ingot
4 x Obsidian
1 x Block of Diamond
Place the components in the following configuration:

Place this block close enough to a source of Raw Essence to allow it to be powered. This block will discover new spells for a chosen affinity. Three essence of your chosen affinity, plus a Feather, Ink Sac and a Journal Fragment are placed into the Spell Research Table as shown below. If there is an undiscovered recipe for that affinity, a Spell Recipe will appear after a few minutes, otherwise an Affinity Tome will appear. The block will consume 24,000 Raw Essence. Spells with no affinity require three Purified Vinteum to be discovered using this block.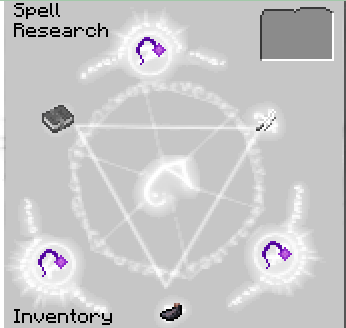 Tutorial
[
edit
]
Spell Research Table, Reconstructor and Keystone Block by Huntanor