Inscription Table
From Ars Magica


This page needs more information.
You can help by expanding it.
Inscription Table
First Appear
*Need Info*
Type of Block
Interactive
Stackable?
Yes
Tool Used to Break
None
Data Values
Hex: *Need Info*
Dec: *Need Info*
Obeys Law of Physics?
No
Luminosity
No
Transparency
No
Crafting Recipe
[
edit
]
Place the components in the following configuration:

The GUI consists of a section for the known spells in the top left. Known spells will not show up until the player has obtained a magic level of 1. After obtaining magic level 1, a few default known spells will show up. Placing spell parchment in the bottom left most slot and clicking on a known recipe will show what runes are required to make the spell. A ghost image of the runes will show up in middle row of slots. When there is spell parchment in the inscription table and a correct combination of runes placed in the middle slots, the player is able to pull out a spell scroll and is able to use it if they meet the mana requirements. The last three slots, in the top right, are used to create a spell recipe scroll which can be used by another player, by right clicking, to learn that spell's recipe. To create a spell recipe scroll the player must put paper, ink sacs, and feathers in the slots and then click on a known recipe that the player wants to give away.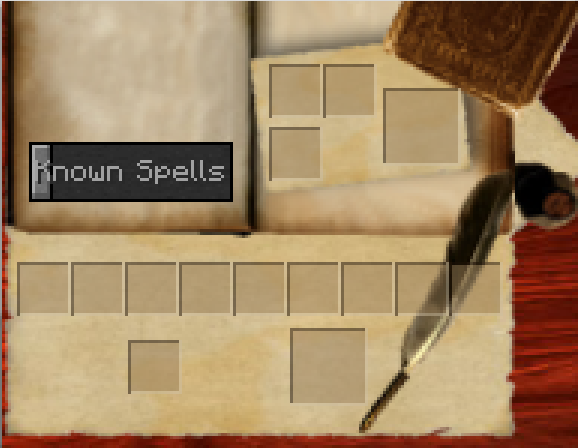 Description
[
edit
]
The inscription table is used to create spells from runes and Spell Parchment.
By combining runes in the correct order along the top row, and a spell parchment in the bottom left slot, a spell can be obtained from the output slot in the bottom right.