Illusion Block
From Ars Magica
Description
[
edit
]
Illusion Blocks look like their counterparts, However, when a player has the True Sight buff active, Illusions Blocks will show their true form and can be passed through as if they were not there.
Illusion Block
Type of Block
Solid Block
Stackable?
Yes (64)
Tool Used to Break
Any Tool (Axe is the fastest)
Data Values
Hex: 2F5
Dec: 757
Obeys Law of Physics?
No
Flammable
No
Luminosity
No
Transparency
No, Yes (True Sight)
Crafting Recipe
[
edit
]
To craft an illusion block, You will need to place Vinteum Dust in all four corners, and put a Niveus Rune (Black) in the top, bottom, left, and right slots of the crafting table, leaving the center empty. The end result will be four Illusion Blocks.
Place the components in the following configuration: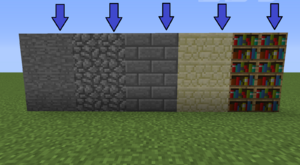 More Info
[
edit
]
The Illusion Block is used to conceal hidden locations. It is used in many of the structures generated by Ars Magica to hide the Tower Protector Blocks.
Illusion Blocks can take the form of most Solid (Non-Transparent) Blocks.
To place your block, stand one block away from the type of block you wish your Illusion Block to appear as and place the Illusion Block while looking at the target block, if done corectly it will look like a normal block of the targeted block.